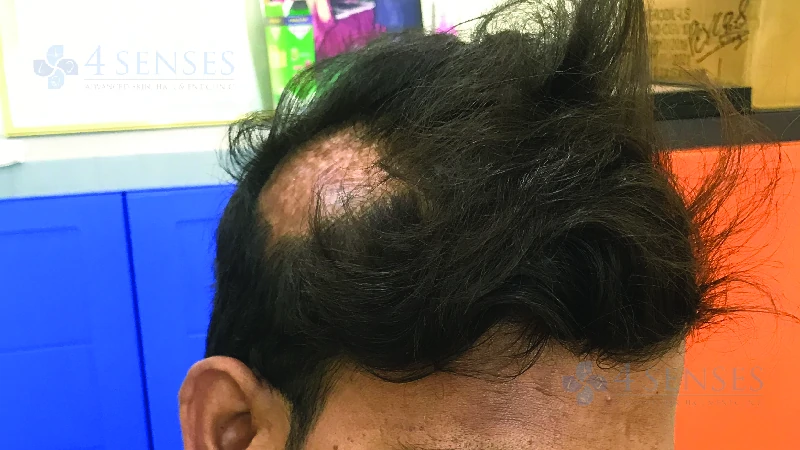 Scarring Alopecia is also known as cicatricial alopecia. Here the baldness happens due to the destruction of hair follicles and replacement of the same with scar tissue. Scarred area has reduced or no blood supply . Hence the follicles will be devoid of blood and nutrition , leading to no survival of hair follicle. This results in scarred baldness.
Causes for Scarring Alopecia / Cicatricial Alopecia
The causes of scarring alopecia are numerous. Few to mention are trauma (burns, radiation, traction), any infiltrative processes (morphoea, scleroderma, sarcoidosis, neoplasias), infections (bacterial, fungal, viral, mycobacterial), centrifugal cicatricial alopecia (CCCA), lichen planopilaris, cicatricial alopecia, frontal fibrosing alopecia (FFA) etc.
Symptoms of Scarring Alopecia / Cicatricial Alopecia
Absence of hair with a scar underlying the baldness spot
Itching or pain or tenderness
Red bumps around the hair roots.
Pus filled blisters around hair follicles.
Pigmentation
Diagnosis
Diagnosis of the condition is made by asking the history (about the lesion), examination of the lesion under magnification, dermatoscopy or trichoscopic examination , histopathological examination, direct immunofluorescence .
Treatment for Scarring Alopecia at 4 Senses
Aim of the treatment is to reduce the symptoms and to reduce or stop the progression of the disease. Early diagnosis would help in stopping the progression of disease. The condition will be treated medically (non surgically) or surgically depending on the underlying cause for scarring alopecia.
Medical management varies according to the underlying causative disease while the Surgical treatment includes hair transplantation, scalp reduction or alopecia reduction surgeries, tissue expansion, and flap surgeries. 
In 4 senses clinic, the Dermato-surgeon who specializes in hair loss and scalp diseases will examine and identify the underlying condition causing the scarring. Diagnosis will be done after thorough physical examination, some basic investigations and in some cases scalp biopsy.
Topical medication or oral medication or hair transplantation surgery will be suggested depending on the causative factor, degree of baldness and the associated conditions.If you are looking for treatment for Scarring Alopecia / Cicatricial Alopecia, you can rely on 4 senses clinic anytime. For Doctor's Appointment Contact  Call:6366494494